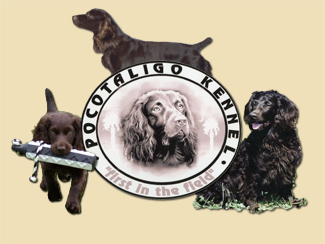 Welcome to Pocotaligo Kennel.
Pocotaligo has Boylin puppies
GCH SHR Thornhill's Cash Me If you Can X Pocotaligo's Woodrack Bailey. Visit puppy page for information on this breeding. 6 males 4 females whelped 21 Nov 2022 ready to go 9 Jan 2023.
Founded in 1986, Pocotaliago Kennel is one of the South's premier kennels specializing in the Boykin Spaniel breed..
Located in Sumter, SC, Kim Parkman can assist you with your training needs. Whether starting your puppy, gun dog basics or advanced training for performance events Pocotaligo Kennel is here for you and your dog.